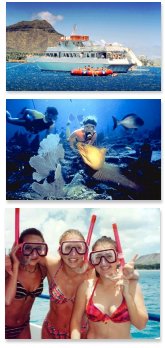 What could be more spectacular than to cruise along the scenic Waikiki coastline, view world famous Diamond Head and breathtakingly clear aquamarine water? We moor at the Turtle Canyons for an afternoon of fun in the sun and water! Experience the thrill of gliding down the giant water slide from the top deck and jump into the aquamarine sea from the huge water trampoline. Relax on our spacious sundeck or enjoy the water toys, which include a huge water trampoline, aqua log, kick boards and water noodles. We have masks, fins and sanitized snorkels available for you to explore an ocean full of fascinating tropical fish. Guests often see Hawaiian Spinner Dolphins and Green Sea Turtles. While at anchor a bountiful BBQ lunch is prepared fresh from the grill. A "snorkel brief" provides instruction for use of masks, fins and snorkels. Water access is by easy-to-use stairways, and a fresh water shower is provided for a refreshing post swim rinse. Price includes cruise, meal, use of water toys, soft drinks, coffee and tea. Mixed drinks, beer and wine from our full bar are available for purchase onboard. Roundtrip transportation from Waikiki hotels is included.
Afternoon Lunch Menu:Enjoy grilled hamburgers, cheeseburgers and jumbo hot dogs with fresh buns and all the fixings, teriyaki chicken sandwiches, baked beans, corn on the cob, zesty potato salad, seasonal fresh fruit (pineapple, watermelon, canteloupe, star fruit, strawberries, etc...) and the chef's choice dessert. Soft Drinks, Coffee and Tea. Vegetarian meal are available with advance notice.
Vessel: The m/v American Dream, was christened into service in January 1995. She is fast, stable, modern and spotlessly clean. It features a sundeck, open deck area, perimeter seating, pilothouse forward. The main deck features an enclosed salon, open outer deck seating and extended bow pulpit (view marine life up close). Capacity: 225 guests plus crew. The Crew: USCG licensed Captain; First Aid, CPR and Lifeguard certified "Island Friendly" crew. Wheelchair accessible
Snuba Add-on $49.95: Snuba is designed to introduce the non-diver to the beauty and wonder of the underwater world in the easiest and safest way possible. The air tank remains on a small inflatable raft that floats above the divers and a hose reaches down to them. Imagine enjoying real diving freedom without labor-intensive SCUBA equipment, your weightless body undulating in the warm ocean current as colorful tropical fish and Green Sea Turtles swim by. Divemaster instruction, equipment and guides are included.
Location: Kewalo Basin
Time: Sailing Daily 11:30 AM - 3:00 PM
Days of Operation: 7 days a week
Inclusions Round-trip transportation from Waikiki hotels, lunch, use of water toys and snorkel gear, soft drinks, coffee and tea.
NOTE: Children under 4 are free!