The smoothest ride. The best views. Exceptional service.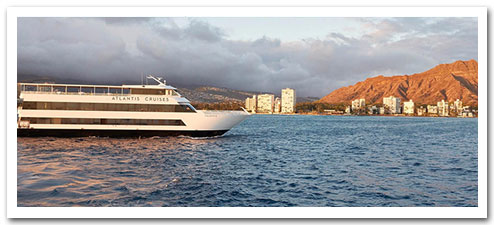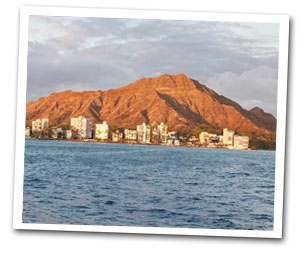 As the sun casts a soft glow across the skies, the Atlantis Cruises' Majestic I vessel sets sail for a journey into the Hawaiian sunset.
Enjoy the beautiful sunset while dining at sea on the Majestic I! Experience a fantastic Hawaiian evening aboard the sleek and state-of-the-art vessel, the Majestic.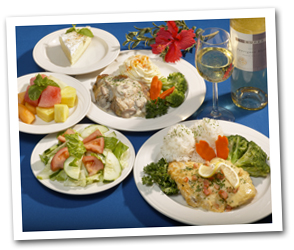 MENU
Pacific Rim Cocktail Shrimp
Royal Salad
Whole Steamed Lobster w/Melted Butter and Ponzu
Roasted Beef Tenderloin w/Mashed Potatoes
Steamed Carrots, Zucchini, and Sauteed Mushrooms
Taro Bread Rolls w/Macadamia Nut Butter
Chocolate Mousse Cake w/Rasberry Coulis

BEVERAGES
Soda, Coffee, Tea

• Child's menu with purchase at child's rate: Fresh Fruit Plate, Royal Salad, Teriyaki Chicken, Island Fish with Rice, Mashed Potatoes, Carrots, Zucchini, Taro Rolls, and Chocolate Mousse Cake.

• Beef Tenderloin and Lobster menu for child is available at adult rate.
What To Know
Pick up from Waikiki based hotels is included in the price for all options.
Check in at 4:45 pm at Pier 6, Aloha Tower Marketplace
Dinner Cruise is 2 hours from 5:30 pm to 7:30 pm.