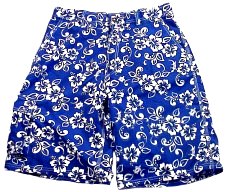 Royal Hibiscus Blue Walking Shorts
Keep cool, casual and comfortable in these new Waikiki Walking Shorts! New 100% Microfiber Polyester designed with the large side pockets. Triple-stitched for extra strength. Also available as board shorts. Colors: Blue
SOLD OUT Click here to view sizing chart

Care: Machine wash cold, mild soap,
no bleach, line dry, use cool iron.
Fabric: 100% Fast-Drying Micro-Fiber Polyester

Great for Team Uniforms, Theme parties, Family Reunions, Luaus, Clubs, Pep Squads. Inquire about our Bulk Ordering.