Outrigger Waikoloa Beach

Value
Season
Regular
Price
Peak
Season
Guests/Max
per room
Garden View
$162
$162
$162
2/4
Ocean View
$197
$197
$197
2/4
Ocean Front
$224
$224
$224
2/4
1 Bedroom Suite
$327
$327
$327
2/4
Free Daily Breakfast
instantly check rates & availability
Property Information
69-275 Waikoloa Beach Dr.
Waikoloa, Hawaii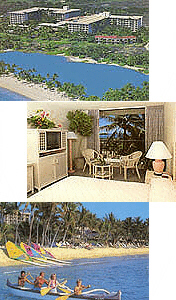 A complete destination resort overlooking an ancient Hawaiian Fishpond. This AAA four Diamond rated property has fine stretches of beach, excellent water sports, tennis, golf and more. All-inclusive programs are available too.

Excellent value hotel located in the Waikoloa area. Beautiful gardens, swimming pool and jacuzzi to enjoy. The hotel staff has a very "aloha" spirit that makes it a pleasure to stay at this hotel. The Luau at this hotel is also very good.

Located on Amaeho'malu Bay, the best beach in Waikoloa. Amaeho'malu Bay is a half-mile long white sandy beach that is great for sunbathing, swimming, snorkeling, and windsurfing.





instantly check rates & availability

© 2006 Waikiki.com. All Rights Reserved.