Royal Kona Resort

Value
Season
Regular
Price
Peak
Season
Guests/Max
per room
Mountain View
$80
$80
$80
2/4
Garden View
$105
$105
$105
2/4
Partial Ocean View with Breakfast Special
$115
$115
$115
2/4
instantly check rates & availability
Property Information
75-5852 Alii Drive
Kailua-Kona, HI 96740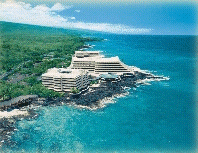 Along the Kailua-Kona shoreline near Kona are three open-air buildings that make up The Royal Kona Resort. Set oceanfront, overlooking magnificent Kailua Bay on the sunny "Big Island" of Hawaii, the full-service Royal Kona Resort is an ideal vacation haven. Our guests enjoy 452 spacious guest rooms within a relaxed, casual atmosphere. An abundance of recreational opportunities are located on-property or nearby, and three activities desks offer sightseeing tours, snorkel and scuba excursions, helicopter adventures and much more.

Each of our guest rooms features a private lanai, and most offer spectacular ocean views. Our color televisions are equipped with "On Command" video systems offering dozens of recently-released movies. Air-conditioning, a refrigerator, telephone, safe and a coffee maker are also included in each room. Daily maid service is provided, and a laundry area is available for guests. Room service hours are 6:30 A.M. to 9:00 P.M. From a rejuvenating massage to a cup of pure Kona coffee, the Royal Kona Resort's shops offer it all. And over 10,000 square feet of indoor and outdoor meeting and banquet facilities can easily accommodate groups of 25 to 250.

instantly check rates & availability

© 2006 Waikiki.com. All Rights Reserved.