Royal Waikoloan

Value
Season
Regular
Price
Peak
Season
Guests/Max
per room
Standard
$79
$79
$79
2/4
Partial Ocean View
$107
$107
$107
2/4
Ocean View
$118
$118
$118
2/4
Ocean Front
$135
$135
$135
2/4
instantly check rates & availability
Property Information
Kohala Coast
Kona, Hawaii, 96743-5000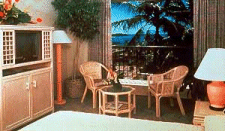 They say Hawaiian royalty traveled to the golden sand beach and sheltered bay at the Royal Waikoloa to rejuvenate their body and soul. This 15-acre paradise set on a black lava flow facing the setting sun is the perfect playground for swimming, snorkeling, scuba diving, windsurfing kayaking, sunbathing and golf. The 527 guest rooms and 10 suites all have private lanais that look out at the glowng Kohala sunsets and the fragrant tropical gardens that wind around the hotel.

Extra amenities: Refrigerator On Request, 6 Tennis Courts, BBQ Facilities, Fitness Center, Room Service.

instantly check rates & availability

© 2006 Waikiki.com. All Rights Reserved.