Embassy Vacation Resort
Poipu Point

Value
Season
Regular
Price
Peak
Season
Guests/Max
per room
1 Bedroom Suite Saver
$175
$175
$175
4/4
1 Bedroom Deluxe Ocean View
$268
$372
$372
4/4
2 Bedroom Garden View
$270
$270
$270
6/6
2 Bedroom Deluxe Ocean View
$320
$384
$384
6/6
4th Night Free
Daily Cocktail Reception
instantly check rates & availability
Property Information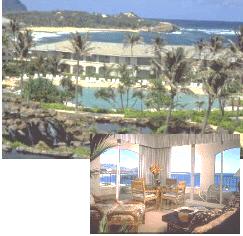 Nestled in the sand dunes along Poipu, Kauai's golden sun coast, the Embassy Vacation Resort Poipu Point is a reflection of Hawaii's plantation era. This four story condominium suite complex is set amidst 22 waterfront acres of beautifully manicured tropical garden, complete with a lagoon-styled swimming pool designed with its own sandy beach. Each of the one, two and three bedroom suites comes with a fully equipped gourmet kitchen. laundry facilities, a huge lanai and daily maid service. Use the fitness center with exercise equipment, sauna or steam room to keep in shape.
It's easy to stay busy at Poipu Point. Play a round of golf at the Poipu Bay Resort Golf Course nearby. Enjoy our private white sand beach lagoon and water volleyball. Or take a romantic stroll along the beach. Our guests also receive a complimentary breakfast buffet and daily sunset cocktail reception.

Extra amenities: 100% Satisfaction Guarantee, AAA Three Diamond Award, Complimentary continental breakfast, Evening cocktail reception, 24-hour front desk, Big screen entertainment center Concierge, Resort activities, Poipu Bay Resort Golf Course nearby, White sand beach lagoon, Steam bath and sauna, Fitness centers, Barbeque and picnic areas.


instantly check rates & availability

© 2006 Waikiki.com. All Rights Reserved.