Kauai Marriott
Resort and Beach Club

Value
Season
Regular
Price
Peak
Season
Guests/Max
per room
Garden View
$174
$230
$230
2/4
Ocean/Pool View
$274
$274
$274
2/4
Ocean View
$315
$315
$315
2/4
King Suite
$538
$538
$538
2/4
instantly check rates & availability
Property Information
Kalapaki Beach
Lihue, HI 96766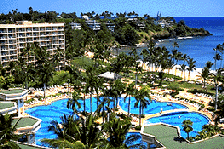 Join us in the exotic South Pacific at a spot where life is simpler. Majestic waterfalls, blue lagoons, lush rain forests that echo with the warble of tropical birds. And at the end of the day enjoy the comfort of a guest room exclusively appointed for relaxing in paradise.

Tropical breezes drift in off the cerulean waters of Kauai. Sensational but serene, the perfect setting for private daydreams. Delight in the breathtaking views from your private balcony. Experience the Kauai Marriott; the change will do you good.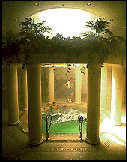 A golden sand beach, swaying palms, 800 lush tropical acres and the picturesque Kalapaki Bay are the setting of the beautiful Kauai Marriott. Many of the 356 luxury rooms and 11 stunning suites have a treasured ocean view, and the pool is a show piece itself - complete with bridges and palms, this 26,000-square foot masterpiece is Hawaii's largest pool. Enjoy tennis, golf at the highly rated 36-hole Jack Nicholas golf course, horseback riding, an array of water sports, children's programs, and a complete fitness center.





instantly check rates & availability

© 2006 Waikiki.com. All Rights Reserved.