The smoothest ride. The best views. Exceptional service.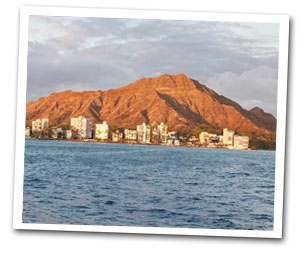 As the sun casts a soft glow across the skies, the Atlantis Cruises' Navatek I vessel sets sail for a journey into the Hawaiian sunset. Enjoy the beautiful sunset while dining at sea on the Navatek I! Experience a memorable evening aboard the sleek and state-of-the-art vessel, the Navatek I. The 140' high-tech vessel, hailed by Forbes magazine as 'reinventing the boat', uses a breakthrough design (SWATH technology) ensuring guests will enjoy the smoothest cruise in the islands.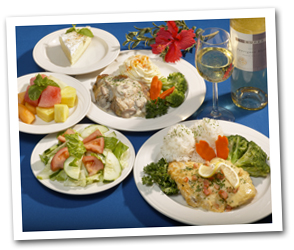 It's the only dinner cruise that in addition to sailing along Waikiki Beach, one of the most famous beaches in the world, goes beyond Diamond Head where few people see the hidden shores of the Kahala Coastline -- home to Hawaii's rich and famous. The Sunset Buffet is the favorite of families and couples preferring a fun, informal atmosphere where the dining room turns into a party after the sun sets. Buffet guests dine in the ocean-themed Blue Hawaii Room, located on the first deck of the Navatek and are treated to a Hawaiian and contemporary revue of music, song, and dance. The smoothest ride. The best views. Exceptional service. Atlantis Cruises.
Upgraded reserved window seating is available aboard the Navatek I. Guarantee your spot next to our large windows for the best views of the Waikiki shoreline.
What To Know
Pick up from Waikiki based hotels is included in the price for all options.
Check in at 4:45 pm at Pier 6, Aloha Tower Marketplace. Tour is 2 hours from 5:15 pm to 7:15 pm.
Maximum capacity is 300 guests
The prices are not inclusive of tax & fees. GE Tax (4.712%) , Harbor Fee (3.0%) will be added to the price.
*Waikiki.com shall not be liable to any individual utilizing these tour/activity programs for delays, injury, loss, accident or damage to persons or property beyond its control. Natural phenomena are random and out of the control of the tour provider. Prices, features and/or menu are subject to change without notice.