Hilton Hawaiian Village Resort & Spa
$$$$
2005 Kalia Road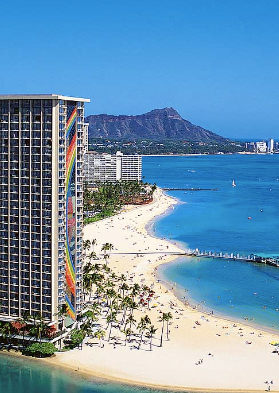 Overlooking the Pacific on the very best strand of Waikiki Beach, you'll find a place apart - enchanting walkways, gardens of rare tropical flowers and lava rock pools where black swans, penguins and pink flamingos play. Here, the glory of nature complimens ultimate luxury. In ancient Hawaii the Ali'i were royalty, and at the Ali'i Tower at Hilton Hawaiian Village you will be indulged with the finest service and amenities. Guests enjoy a private pool, health club, sauna, whirlpool, massage room and exercise equipment, all on the world's most famous beach.
Fronting the resort is beautiful Waikiki Beach, where guests enjoy a variety of activities, including snorkeling, boogie-boarding, swimming, and surfing. The Hilton Hawaiian Village offers its own beachfront dock where the Hilton Rainbow catamaran offers day and evening cruises. The Hilton-designed Rainbow Express introduces kids to the magic of the islands through daily activities and games.
Choose from any of the hotel's six restaurants, among which Bali-by-the-Sea and the Golden Dragon have both received awards for fine dining from Travel Holiday magazine. In addition to fine dining, five lounges feature nightly entertainment and drinks. Enjoy the Magic of Polynesia show with its Hawaiian music, dance, and magic. Or catch a guest performance at the Tropics Surf Club Showroom.