Fun and Educational! Great for families & small children!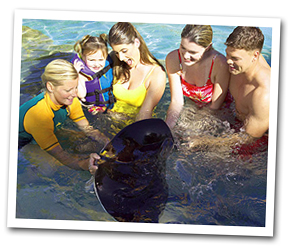 Guests swim in a special lagoon and meet these curious animals face-to-face as they glide through the water. There is no better place to go swimming with sting rays on Oahu than at Sea Life Park! Using flotation vests, a snorkel, and a mask, participants can observe and interact with adorable Hawaiian Rays. Guests have the opportunity to swim with and touch the rays. These graceful marine animals are gentle and friendly. This program is great for families and small kids.
About the Park
This is Hawaii's prime marine attraction, located on Oahu's southeastern tip by Makapuu Point, just 15 miles from Waikiki. Come and visit this world-class marine attraction and enjoy up close views of dolphins, sea lions, penguins, stingrays and many other creatures of the ocean. You'll even be able to see the world's only "Wolphin," a mix between a dolphin and a whale!
The park offers a whole range of packages that are entertaining as well as educational. Tour the park and say hello to all kinds of marine life, sit back and watch the thrilling animal shows, or if you want to get wet, swim with dolphins in the park's large lagoon. For the adventurous there is an underwater trek that allows you to walk 18 feet down among many colorful tropical fish! Even experience a luau, a traditional Hawaiian feast featuring an all-you-can-eat Hawaiian buffet dinner and a stunning Polynesian revue. It's the only luau in Hawaii that also boasts a spectacular dolphin show.
This East Oahu attraction is a place to enjoy the company of dolphins, sea lions, rays, sharks, native fish and more. With a focus on educational and interactive programs, Sea Life Park Hawaii is small enough to enjoy on foot but diverse enough to be a full-day destination.
Interactive Programs
Sea Life Park Hawaii is where the heart meets the sea. No amusement park in Honolulu will allow you to experience a variety of unique animal encounters and other interactive opportunities like Sea Life Park Hawaii. From dolphins and sea lions, to sharks and Hawaiian rays, we provide you the opportunity to get up-close and personal with our animals in an intimate setting.
Shows and Education
Dive into the science of our sea! Why go to a water park on Oahu when you can have fun learning about marine animals? From Touch Pools, Penguin Trainer Talks and interactive classrooms, we offer something for everyone in the family.
Habitats and Exhibits
Our five habitats and exhibits are a great way to learn and observe the animal's behaviors. Whether you're watching penguins jump in and out of the water, enjoying the company of lovebirds, or stepping into the breathtaking world of Hawaii's sharks, Sea Life Park Hawaii will delight you.
What To Know
Hawaiian Reef Encounter Daily Schedule: 10:40 AM, 11:20 AM, 1:20 PM and 2:40 PM
*Schedules are subject to availability.
Program Duration: 30 min (water time: 20 min)
Standard park hours are 9:30 am - 4:00 pm. The last show is at 3:00 pm.
General park admission is included in the price. Includes transportation from select Waikiki locations and must be reserved 72 hours prior to arrival date.
Recommendations
It is important to arrive 30 minutes before the start of your reserved program at Sea Life Park Hawaii.

Bring your own towel and swimwear. Changing facilities are available.

Use only biodegradable sunscreen to protect the animals and their environment. Approved sunscreen is available in our gift shop.

Each child 4 – 7 years old must be accompanied in the water by a paying adult (13 years or older)

Children 8 years old and older may swim on their own during the program

Program lasts approximately 30 minutes (20 minutes in the water).

NO jewelry (including piercing jewelry) or anything that can potentially fall off in the water, such as sunglasses, glasses, rings, bracelets, necklaces, hair ties etc.

Pregnant women are NOT allowed to participate.
Program Requirements:
NO jewelry (including piercing jewelry) or anything that can potentially fall off in the water, such as sunglasses, glasses, rings, bracelets, necklaces, hair ties etc.

The use of safety vests is required for all participants. Approved vests are provided to participants.

Participants must be at least 8 years old, well-behaved, and able to follow all instructions

Must be in good physical condition, without back or neck problems--this is a physical activity

Due to the physical nature of this program, pregnant women are not allowed to participate

Anyone acting in a manner which threatens the safety of the animals, themselves, or other people (including; without limitation, unruly or disruptive behavior, or failure to follow directions), may be removed from the activity without a refund

All participants or their legal guardians are required to sign a release of liability and waiver form before participating

We welcome people with disabilities! Please contact us to learn more.
Lockers & Rentals
Locker Rentals: Lockers are available for $3.

Wheelchairs: Wheelchairs can be rented for $5 per day. Guests are allowed to enter the park with their own wheelchair.

Strollers: Single strollers can be rented for $5 per day.
*Waikiki.com shall not be liable to any individual utilizing these tour/activity programs for delays, injury, loss, accident or damage to persons or property beyond its control. Natural phenomena are random and out of the control of the tour provider. Prices, features and/or menu are subject to change without notice.

Save Time & Book This Activity Now!
Hawaiian Reef Encounter
Rates

Adult (13+)

$89.00

Child (3-12)

$89.00

Secure Reservation

| | |
| --- | --- |
| Click on calendar to choose date: | |




GE Tax (4.712%) will be added to the price above.

**Prices & Inclusions subject to change without notice.

***A travel representative will send you a confirmation email along with tour/activity vouchers within 24 hours of booking. If there are any problems with your dates, we will contact you. There are no refunds for cancellations made within 48 hours of tour/activity, unless another cancellation policy is specified. No Shows are charged in full. If you have any questions, please click here to contact us. Mahalo!