Head to an outer reef to see turtles and fish!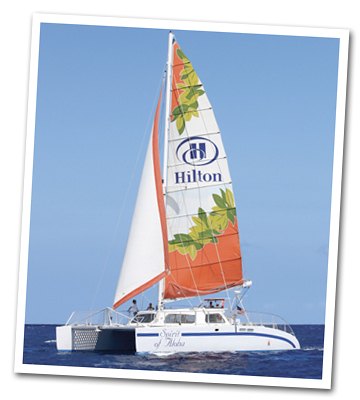 Spirit of Aloha catamaran takes you to the outer side of the Turtle Canyon reef near Hilton Hawaiian Village. Enjoy the best snorkeling platform as the sailing catamaran yacht becomes your island retreat to a site inaccessible from the beach. Enjoy bar snacks such as chips, mixed nuts and chex mix. Unlimited nonalcohol beverages.
The Hilton Spirit of Aloha is one of Waikiki's newest sailing vessels -- a 54-foot-long by 30-foot-wide high-performance motor-sail catamaran with twin 230-hp engines, a level of power unsurpassed among Waikiki sailing catamarans.
Every guest is provided with use of an inflatable snorkel safety vest and top-notch snorkel gear, including prescription masks if needed. Uncommon amenities for a sailing cat include a full bar with draft beer, a large fully enclosed and covered cabin with table seating, in addition to bench seating in many areas of the boat.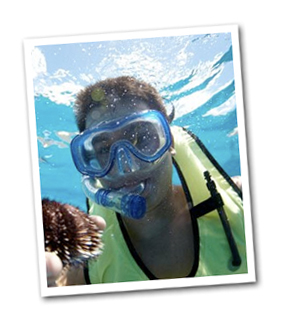 There are also ample outdoor areas front and back, comfortable and safe pier-side loading (NOT a "beach loading" boat), two full restrooms, freshwater shower, a surround sound-system, multiple safe stairway entry points for snorkelers entering the water.
Licensed to carry 49 passengers, Spirit of Aloha carries a maximum of 48 instead in order to add an additional crew position for unsurpassed customer service. Crew skills include multilingual, marine biologist, and lifeguard/CPR/first-aid certified, and provides customer service standards set to attain Duke Kahanamoku's "Creed of Aloha" for the utmost in Hawaiian hospitality.
What To Know
Operates Daily from: 1:30 PM - 3:00 PM
Sailing from the Hilton Hawaiian Village Beach Resort & Spa Pier on Waikiki Beach
Duration: 1.5 hours
All trips check in NO LATER THAN 20 MINUTES PRIOR TO DEPARTURE at the cruise kiosk near the beach walkway to the Hilton Pier, at the Diamond Head end of the Tropics Bar & Grill lanai. Guests being dropped off from off-property can come down Paoa Avenue to reach the kiosk. Times are subject to change for operational and maintenance reasons or with seasons (for instance, the sunset trip may run slightly long on the handful of the longest midsummer days in June.)
No transportation. 4 Hour Hilton Hawaiian Village Parking validated.
Swimming, snorkeling, and observation of marine life is weather and dolphin behavior dependent and are at captain's discretion. Times subject to change for operational reasons or with seasons. Trips may be canceled in case of inclement weather.
*Children 3 and under are admitted FREE.
*Waikiki.com shall not be liable to any individual utilizing these tour/activity programs for delays, injury, loss, accident or damage to persons or property beyond its control. Natural phenomena are random and out of the control of the tour provider. Prices, features and/or menu are subject to change without notice.