Golf two world-class golf courses on Lanai!
Marjet is proud to announce their charter golf experience on the Island of Lanai! Fly with our friendly and courteous crew on a luxury charter.
Lana'i is home to two world-class golf courses. The Challenge at Manele spans 7, 039 yards across ancient lava fields along the rugged and breathtaking coastline. This 18 hole, par 72 championship crouse designed by Jack Nicklaus, offers 180 degrees of undistracted views at every hole.
Just a few miles away, is one of the last true unspoiled courses in Hawaii, the Experience at Koele. Greg Norman collaborated with Mother Nature to create this 18 hole, par 72 course garnished with eucalyptus, pine and kiawe trees, cascading waterfalls, and dramatic green valley and vistas. It is no wonder that both courses have received so many awards throughout the years.
Beechcraft King Air E90
We use a Beechcraft King Air E90. It is a quiet, comfortable, turbo-prop which has a great reputation for safety and reliability in the aviation industry. In fact, most flight take 30 minutes or less
The aircraft is not only pressurized, but also air-conditioned and has rotating polarized windows to cut out annoying glare from the sun. We can carry up to 9 passengers.
Relax and Keep your Shoes On!
About Marjet Hawaii
Marjet is a private charter company offering its customers exceptional private air service and providing you with th e most secure, stree-free and enjoyable flying experience throughout the islands.
Marjet's mission is to bring customers exceptional service at affordable prices. Luxury charter service on a 24/7 basis. Marjet has been flying the Hawaiian Islands since 1975 and know the territory. No long lines an inconvenience at the airport. FAA Part 135 Approved and FAA Approved Aircraft Inspection Program. Multi-Lingual flights guides available with prior notice.
History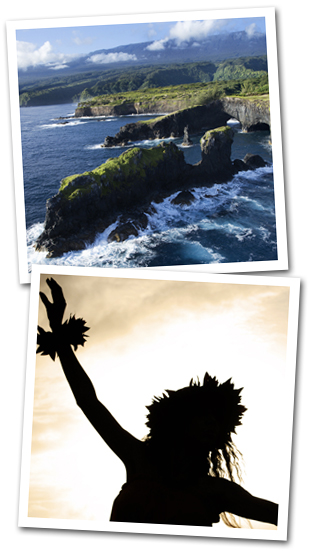 Marjet was formed because of our love for aviation, and our love for Hawaii. At Marjet we love to fly and we love to share Hawaii with our customers. We know that most people have never seen a waterfall gushing into the ocean from the side of a steep green cliff. We know that most people have never seen a rainbow that forms a full circle because it is not shortened by the surface of the earth. We know that we are privileged to see these sights and many others each day that we fly. We love to take our friends and customers up in our wonderful airplane, and see them watch in wonder as the splendor of Hawaii is unveiled before them.
When I formed the aviation company of my dreams I had three daughters, Mari, Jessica and Tracey. I formed the name of the company by choosing letters from their three names. My son Cody, who is now 16, was not yet born when I formed the company. We treat the members of Marjet and our customers as if they are family. We want everyone to enjoy and cherish their time with Marjet.
You may be looking for the most convenient way to get from one island to another in order to efficiently get started on your vacation. You may have a business appointment on another island that you must get to on time. You may want to take one of our tours in order to see the beauty of the Islands close-up. Whatever your reason is for flying with us, we want to make sure that you carry away a positive experience that you will want to repeat often.
What To Know
Duration: Approximately 6 hours
Days of Operation: 7 days a week
Departure Times: AM and PM tours available.
Departure Point: Honolulu International Airport
Maximum Capacity: 6 passengers with golf clubs
Minimum Passengers: 4
Subject to Availability
Minimum of 4 passengers required

Tour narration by pilots who are State of Hawaii Certified Tour Guides.
Total fares include applicable taxes and fees. All seat assignments will be determined by weight and balance. Due to guest comfort and the weight and balance constraints of the aircraft, anyone weighing 250 pounds (109 Kg) or over will be required to pay for an additional full seat upon flight confirmation. Federal aviation regulations require each passenger to weigh before boarding a private charter flight.
Any child under 24 months of age is welcome to ride on an adult's lap. Children 24 months and older require an individual full-fare seat. This activity operates weather permitting. No diving within 24 hours of flight.
Reservation confirmation is required.
Check-in for our flights is 45 minutes prior to tour time.
Driving Directions
From Waikiki: Take H-1 freeway west to Nimitz exit, to Lagoon drive. Our hangar is located at 18 Lagoon Drive.
From Waikiki: (alternate route) Take Ala Moana Boulevard to North Nimitz Highway, to Lagoon drive. Our hangar is located at 18 Lagoon Drive.
From North Shore: Take H-2 freeway south to H-1 freeway Honolulu bound, exit Nimitz Highway to Lagoon drive. Our hangar is located at 18 Lagoon Drive.
Frequently Asked Questions
Q: What kind of aircraft do you use?
A: We us a Beechcraft King Air E90. It is a quiet comfortable, turbo-prop which has a great reputation for safety and reliability in the aviation industry.

Q: How long does it take to fly between the island?
Most flights take less than 30 minutes. Our flight times are slightly longer than the airlines. However, our point to point times are much shorter because there is no waiting in long security lines and no waiting for your baggage. In fact, all baggage is carried in a compartment inside the aircraft.

Q: Is your aircraft pressurized?
A: Yes it is. It is not only pressurized, it is air conditioned and it has rotating polarized windows to cut out annoying glare from the sun. No airline has this feature.

Q: Can we take a pet?
A: Of course you can. For safety reasons the pet must be in a suitable size and type of cage or crate. Your pet will be in the cabin with you, riding in pressurized air conditioned comfort.

Q: Where are you located?
A: We are located on the south ramp of the Honolulu International Airport at: 18 Lagoon Drive in Honolulu.

Q: Can we drink alcoholic beverages aboard the aircraft?
A: Of course. We want you to enjoy your flight. We want you to feel at home on your flight. However, remember safety is always our first concern.

Q: Is catering available?
A: Catering is available with advance notice.

Q: Can you carry freight?
A: Yes, we can carry freight between all of the islands. In fact, we are approved by the FAA to carry hazardous materials on non-passenger flights.

Q: How many passengers does your aircraft accommodate?

A: We can carry up to 9 passengers. However, when carrying 9 passengers there is not much room for baggage and passenger comfort is decreased. If you have a large group and are not taking much baggage this may work for you considering that our flights are relatively short.

Q: I'm staying in Waikiki. Can I be picked up by a large luxury limousine?
A: Of course you can. There is an additional charge and we need prior notice.
*Waikiki.com shall not be liable to any individual utilizing these tour/activity programs for delays, injury, loss, accident or damage to persons or property beyond its control. Natural phenomena are random and out of the control of the tour provider. Prices, features and/or menu are subject to change without notice.