The ultimate in luxury & romance for special occasions!

The ultimate in luxury and romance for special occasions! Be pampered at the exclusive Captain's welcome reception on the top deck and new "Bon Voyage hula" welcomes you. Savor a 7-course Signature dinner served to your private table in the top deck Super Nova® room, super premium beverages and live Jazz entertainment by some of Oahu's top artists!
Our feature show is a mesmerizing Jazz trio of some of Oahu's top artists, with vocalist, saxophone player and pianist performing a wide selection ranging from nostalgic blues to current tunes. Plus, a variety of live entertainment, like no other, starting with the STAR's pier-side welcome hula. At the Captain's welcome reception, enjoy our Hawaiian music and hula dancer, followed by new "Bon Voyage hula," then soft piano music during dinner as we cruise along the Waikiki coastline.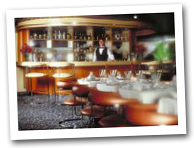 Super Nova Dining Room 4th Deck Capacity for Table Service: 130 seats Beautiful ballroom with exquisite Art Deco style interior, own bar, waiting lounge, restrooms, baby grand piano, own sound system, air-conditioning, and private lanais.
Not recommended for children (under 12).
On Fridays, we stay out an extra hour to view the Friday aerial fireworks show. $10 additional charge. Please select Friday Fireworks Cruise when booking.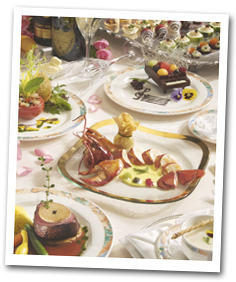 7 Course French Style Dining Menu
Changes Seasonally

Winter Canapés
Lobster Croquette with Tomato
Roasted Fingerling Potato with Aioli and Bacon
Eggplant Rollatini with Goat Cheese

Truffle, Artichoke and Potato Soup

Golden Beet Couscous Salad
Lola Rosa, Prosciutto
and Caper Balsamic Vinaigrette

Air-Flown Live Maine Lobster
with Navarin of Lobster, Butternut Squash,
Baby Carrots, Pearl Onions and Seared Foie Gras

Intermezzo
Blood Orange and Cranberry Sorbet

Highest Grade Garlic Crusted Prime Tenderloin
with Winter Root Vegetables
and Beurre Blanc and Pomegranate Demi-Glace Sauces

Chocolate Symphony
Opera Cake, Gelato
and Port Wine Poached Pear

Freshly Baked French Bread and Brioche with Butter
Freshly Brewed STAR's Custom Kona Blend Coffee
and Mighty Leaf® Organic Teas
Beverage
Welcome Hawaiian Bellini and Three Super Premium Beverages are included. Additional beverages and special selection of vintage wine and champagne by the bottle available for purchase.
Enhancements
Add an Enhancement to your cruise
Celebration Plan - Window seating (up to 8 persons), private table and photo (per 2 persons); minimum of 2 persons. $35.00 per person.
Reception Plan - For special occasions enjoy window seating at a private table (up to 8 persons), a photo for each person, a bottle of "champagne" (per 2 persons) and a Lei Cake by adding "Reception Plan" for just $50.00 per person. Minimum of 2 persons required to book. $50.00 per person.
Lei Cake - A sweet finale for birthdays and special occasions! French sponge cake with light cream frosting, 'ilima lei and chocolate plaque decorations (no candles please). 10" Round, $65.00
Wedding Cake - French sponge cake with light cream frosting and fresh flower decorations. Includes souvenir cake knife & server. 2 Tier, $210.00
White Wine - Mer Soleil Chardonnay, $75.00 per bottle. Hints of matchstick, pineapple and coconut layered with vanilla.
Red Wine - Robert Mondavi Private Selection Cabernet Sauvignon, $75.00 per bottle.
Champagne - Dom Perignon, $275.00 per bottle. Simply the finest!

What To Know
Cruise Time: Departs from Aloha Tower Marketplace, Pier 8 at 5:30 PM - 7:30 PM. Friday Fireworks & Sunset Cruise 5:30 PM - 8:30 PM.
Location: Departs from Aloha Tower Marketplace, Pier 8. Please check in by 4:45 PM at Reservations Office, next to the Star of Honolulu.
Dress Code: For gentlemen: No shorts, T-shirts or flip flops. Not recommended for children (under 12).
Vessel: Star of Honolulu Hawaii's largest award-winning premier cruise ship equipped with watts-type stabilizers, 1,500-passenger tour vessel with 3 types of stabilizers for smooth sailing in Hawaiian waters. Hawaii's only A.D.A. compliant ship with 2 elevators plus 4 spacious decks for the best views and most choices to suit your needs. Other features include 6 beautiful dining rooms and private lounges, sound systems, bars and restrooms on all decks and a 60' high observation sun deck. Departs from Aloha Tower Marketplace, Pier 8.
Transportation Add transportation to your cruise. Motorcoach, Air-conditioned, Round-trip from Waikiki: $14.00 per person and from Kahala or Ko Olina area at $33.00 per person.
Accessible Accommodations (for transportation and vessel):
Available upon request with 48 hours advance notice. Please call 808-721-1552 to request.
Cruise Route: The Star of Honolulu is stabilized and certificated to go beyond Diamond Head to view the beautiful Kahala Gold Coast. The Captain reserves the right to alter the route depending on sea conditions.
Aloha Friday Fireworks: Celebrate Aloha Fridays with Sunset and Fireworks aboard Star of Honolulu! Enjoy an extended cruise for an additional $10.00 every Friday to enjoy fireworks. Fireworks display is subject to availability as we do not operate or control it.
Parking: Self-parking is available at the parking lot in front of Pier #8 - Irwin Park. Present your parking ticket upon check-in at the Star of Honolulu - Reservations Office to validate and receive a reduced parking fee.
*Waikiki.com shall not be liable to any individual utilizing these tour/activity programs for delays, injury, loss, accident or damage to persons or property beyond its control. Natural phenomena are random and out of the control of the tour provider. Prices, features and/or menu are subject to change without notice.