Explore the Waikiki ahupua'a "From the Rainforest to the Reef" on this spectacular full-day eco-adventure.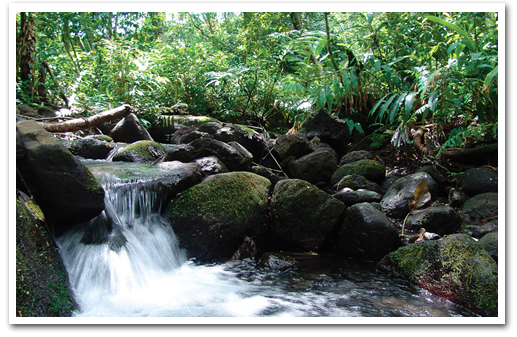 Begin the day exploring a privately owned 75 acre tropical rainforest on foot. Highlights are ancient rock terraces, tropical plants and flowers, streams, pools and a hidden 200ft waterfall. This is an exclusive stream and waterfall hike. This is the only tour that can take you this exclusive location. Mild to moderate 2-mile round-trip hike lasting approx 1.5 hours with a 100 foot elevation gain.

You will then be shuttled up to Puu Ohia near 2000ft in the Koolau mountains. After gearing up, we'll begin coasting 5-miles downhill on comfortable cruiser bikes over paved road through a lush Oahu rainforest. Stopping at different overlooks, our nature tour guides will point out places of interest and geological features from high above Honolulu and Waikiki. Once we reach the bottom, enjoy a delicious deli-lunch and beverage before a quick shuttle to Kewalo Basin. With its twin 140hp engines and Bose Sound System, we'll board the 38.6ft Kahala Kai catamaran and set sail on the blue Pacific Ocean on a relaxing adventure off beautiful Waikiki. Learn about the Hawaiian reef and see Waikiki, Honolulu and Leahi (Diamond Head) from a very different perspective. Swim or snorkel in the warm waters fronting Waikiki Beach as we search for honu (green sea turtles) and tropical reef fish. Nai'a (spinner dolphins) are sometimes seen playing off the wake of our catamaran. Seasonal kohola (Pacific Humback whales) are usually seen between the months of December through April. Complimentary drinking water and a fresh water rinse is available for your convenience. Bring your camera, swim wear and towel. Listen to smooth Hawaiian music from our Bose Sound System and soak in some Hawaiian sun…

This is family fun too! Even the kids will love it. The catamaran is fully equipped with two onboard restrooms, neccesarry life jackets for kids and adults and comes with masks, snorkels, and swimfins for optional swimming.
What To Know
Time: 9:00 am - 5:30 pm (8.5 hours)
(We strongly recommend that you do not book other tours back-to-back which require you to be strictly on-time in your return from our tours. Weather, traffic and other factors can sometimes delay our return times. This goes for all tour companies and we wouldn't want you to possibly miss your luau or other activity.)
Operates: Tuesday, Thursday and Saturday (September - May); Monday, Tuesday, Thursday, Friday and Saturday (June - August) (weather permitting)

Includes: Includes R/T van transportation from Waikiki, deli-lunch and beverage, KHS cruiser bike, Bell helmet, water bottle and guide. Masks, snorkels, swim fins and life jackets are provided at no extra charge.

What to Bring:Swim suit, towel, sunscreen, hat, sunglasses, water-proof camera. Dress comfortably and wear shoes and socks.
We advise that you only bring what you will need during your adventure with us. A camera or smartphone is ideal to capture images of your day out with us. If not waterproof, it is a good idea to at least have a plastic trash bag from hotel room to protect your camera in case of rain. Please leave purses, computers, credit cards, passports, etc in a safe at your hotel. We are not responsible for damaged, lost or stolen personal belongings while on tour with us.
Restrictions: BIKE TOURS: Maximum weight for bike tour is 250 pounds (114 kilos) and kids tag-a-long trailer 85 pounds (38 kilos). For your safety and well being of others, all riders must know how to ride a bike to participate in our bike tours. We conduct a safety briefing and test ride before each tour. If you are unable to demonstrate ability to safely ride, you will be asked to ride in the van or stay back and wait until tour is finished. No refund will be offered.
KAYAK and SNORKEL TOURS: Maximum weight for kayak tour is 250 pounds (114 kilos). All guests entering the water must wear provided life vests know as PFD (Personal Flotation Devices). If you do not know how to swim, please advise the staff before entering the water. Wind plays a big role in how smooth the ocean surface is. We typically operate our ocean trips up to 25 mph winds where you should expect bumpy conditions. We rarely cancel due to wind, but for your comfort and safety, we do not operate during strong or unfavorable wind directions. If we cancel the tour, we will try to move your tour to another day or no charges from our company will apply.
*Waikiki.com shall not be liable to any individual utilizing these tour/activity programs for delays, injury, loss, accident or damage to persons or property beyond its control. Natural phenomena are random and out of the control of the tour provider. Prices, features and/or menu are subject to change without notice.

Save Time & Book This Activity Now!
Rainforest to Reef - Hike, Bike, Sail & Snorkel Full Day Eco Adventure
Rates

Adult (15+)

$175.00

Child (14 and under)

$112.00

Secure Reservation

| | |
| --- | --- |
| Click on calendar to choose date: | |




GE Tax (4.712%) will be added to the price above.

**Prices & Inclusions subject to change without notice.

***A travel representative will send you a confirmation email along with tour/activity vouchers within 24 hours of booking. If there are any problems with your dates, we will contact you. There are no refunds for cancellations made within 48 hours of tour/activity, unless another cancellation policy is specified. No Shows are charged in full. If you have any questions, please click here to contact us. Mahalo!