Visit Dolphins, Sea Lions, Penguins and More Marine Life!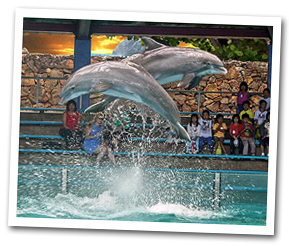 This is Hawaii's prime marine attraction, located on Oahu's southeastern tip by Makapuu Point, just 15 miles from Waikiki. Come and visit this world-class marine attraction and enjoy up close views of dolphins, sea lions, penguins, stingrays and many other creatures of the ocean. You'll even be able to see the world's only "Wolphin," a mix between a dolphin and a whale!
The park offers a whole range of packages that are entertaining as well as educational. Tour the park and say hello to all kinds of marine life, sit back and watch the thrilling animal shows, or if you want to get wet, swim with dolphins in the park's large lagoon. For the adventurous there is an underwater trek that allows you to walk 18 feet down among many colorful tropical fish! Even experience a luau, a traditional Hawaiian feast featuring an all-you-can-eat Hawaiian buffet dinner and a stunning Polynesian revue. It's the only luau in Hawaii that also boasts a spectacular dolphin show.
This East Oahu attraction is a place to enjoy the company of dolphins, sea lions, rays, sharks, native fish and more. With a focus on educational and interactive programs, Sea Life Park Hawaii is small enough to enjoy on foot but diverse enough to be a full-day destination.
Interactive Programs
Sea Life Park Hawaii is where the heart meets the sea. No amusement park in Honolulu will allow you to experience a variety of unique animal encounters and other interactive opportunities like Sea Life Park Hawaii. From dolphins and sea lions, to sharks and Hawaiian rays, we provide you the opportunity to get up-close and personal with our animals in an intimate setting.
Shows and Education
Dive into the science of our sea! Why go to a water park on Oahu when you can have fun learning about marine animals? From Touch Pools, Penguin Trainer Talks and interactive classrooms, we offer something for everyone in the family.
Habitats and Exhibits
Our five habitats and exhibits are a great way to learn and observe the animal's behaviors. Whether you're watching penguins jump in and out of the water, enjoying the company of lovebirds, or stepping into the breathtaking world of Hawaii's sharks, Sea Life Park Hawaii will delight you.
Shows & Education
Dolphin Cove Show
Watch dolphins perform playful acrobatics in this ocean-side lagoon that even features its own private island. Relax in our shaded, open-air theatre and be introduced to some of our amazing dolphins. The show is educational and engaging, designed to showcase each animal's special character, power and grace. After the show, you can feed the dolphins! ($15)
Show Time: 12:30 pm daily.
Times are subject to change.
Hawaii Ocean Theatre
This theater features a large glass tank and you'll be able to watch dolphins perform from above and below the surface of the water. This aquatic theatre allows you to witness the beauty of marine animals moving underwater. Our trainers will narrate the show, which may include penguins, sea lions and dolphins. You'll also learn about the newest training techniques and Sea Life Park's conservation efforts. Show Times: 10:00 a.m., 2:00 p.m.
5/1/17 – 8/31/17 with additional time at 4:00 p.m.
Times are subject to change.
Kolohe Kai Sea
Lion ShowSmart, fast and funny, our California sea lions are a pleasure to watch. You'll be surprised and delighted by their underwater acrobatics and above-ground antics. 11:15 am & 2:50 pm daily.
Sea Lion feedings ($10) take place in our Sea Lion Feeding Pool, near the café area.
Show Times: 11:15 am & 2:50 pm daily
Times are subject to change.
Penguin Trainer Talk
Our crew of adorable Humboldt penguins are able to leap out of the water like bullets and walk upright. Hear all about the aquatic bird species during this trainer-led forum. Here you'll be able to see 11 so-called Humboldt penguins, which are native to South America and also an endangered species. This habitat at Sea Life Park serves as a comfortable breeding site.
Show Time: 10:45am daily.
Times are subject to change.
Discovery Reef Touch Pool
NEW! Children of all ages get excited about the NEW Discovery Reef Touch Pool, where they can carefully lay their hands on starfish, urchins, and even baby honu (Hawaiian green sea turtles) during hatchling season. Children can even crawl into a tunnel and watch shark pups swim by. All creatures featured in the new touch pool are native to Hawaiian waters and tide pools. Plus, Sea Life park's expert staff will be there to share fun facts. *Touch Pool species subject to change.
Habitats & Exhibits
Shark Cave
Sea Life Park's Shark Cave is an excellent place to learn about the wonderful species of sharks living in Hawaii, such as the Scalloped Hammerhead, shown here. Sharks are unique in the fish kingdom, with sleek, boneless bodies (they only have cartilage, no bones) and other amazing adaptations. Our Shark Cave, designed for shark viewing and underwater shark experiences, has great new features, from the life-size shark imagery and cave rockwork on the walls to special underwater mood lighting and – most excitingly – a removal of the submersible fencing that was in place for the safety of the animals and people in the tank.
Starting in July, those guests enjoying our Shark Trek experience will be thrilled to be in the water with several beautiful native sharks, fish and a 200-lb stingray with no boundary between themselves and the animals.
Shark Trek uses remarkable Sea Trek technology which enables virtually anyone, even children, to submerge for long periods of time using just a helmet. The Shark Trek experience – now fence-free!
Dolphins & Wholphins
At 5 years old, Nalu is the youngest calf in the Sea Life Park nai`a `ohana (dolphin family). Wholphins, too, have strong and long-lasting familial bonds, which makes sense given their genetic blend. A hybrid of a false killer whale and Atlantic bottlenose dolphin, Sea Life Park's own Kekaimalu, meaning "from the peaceful sea," and her calf Kawilikai, meaning "blend of the ocean," are inseparable. Learn more about marine mammals on a trip to Sea Life Park.
Penguin
You can watch penguins leap out of the water, sun themselves, or listen to one of our trainers talk about these amazing animals. You might even get to see them eat! Hear about their avian characteristics as we introduce this cherished threatened species to the guests of Sea Life Park Hawaii.
California Sea Lion
Our California sea lions divide their time between basking, snoozing, diving, floating and, of course, eating. You can feed them, too! (Fees apply.)
Aviary
Cockatiels and lovebirds make up the bustling, chirping community of Sea Life Park's open-air aviary. All guests are welcome to step inside and enjoy their company during posted hours. Feeding sticks are available at no charge. (subject to change).
Seabird Sanctuary
Many birds have arrived at our park injured or sick, and in need of rehabilitation. We have carefully and lovingly nursed these beauties back to health and those that cannot go back into the wild are now permanent residents of Sea Life Park. Take a look at some of our local Hawaiian seabirds, including the Iwa (Great Frigate Bird).
What To Know
Single day admission includes all shows and exhibits for that day. Includes transportation from select Waikiki locations and must be reserved 72 hours prior to arrival date.
Standard park hours are 9:30 am - 4:00 pm. The last show is at 3:00 pm.
Lockers & Rentals
Locker Rentals: Lockers are available for $3.

Wheelchairs: Wheelchairs can be rented for $5 per day. Guests are allowed to enter the park with their own wheelchair.

Strollers: Single strollers can be rented for $5 per day.
*Waikiki.com shall not be liable to any individual utilizing these tour/activity programs for delays, injury, loss, accident or damage to persons or property beyond its control. Natural phenomena are random and out of the control of the tour provider. Prices, features and/or menu are subject to change without notice.